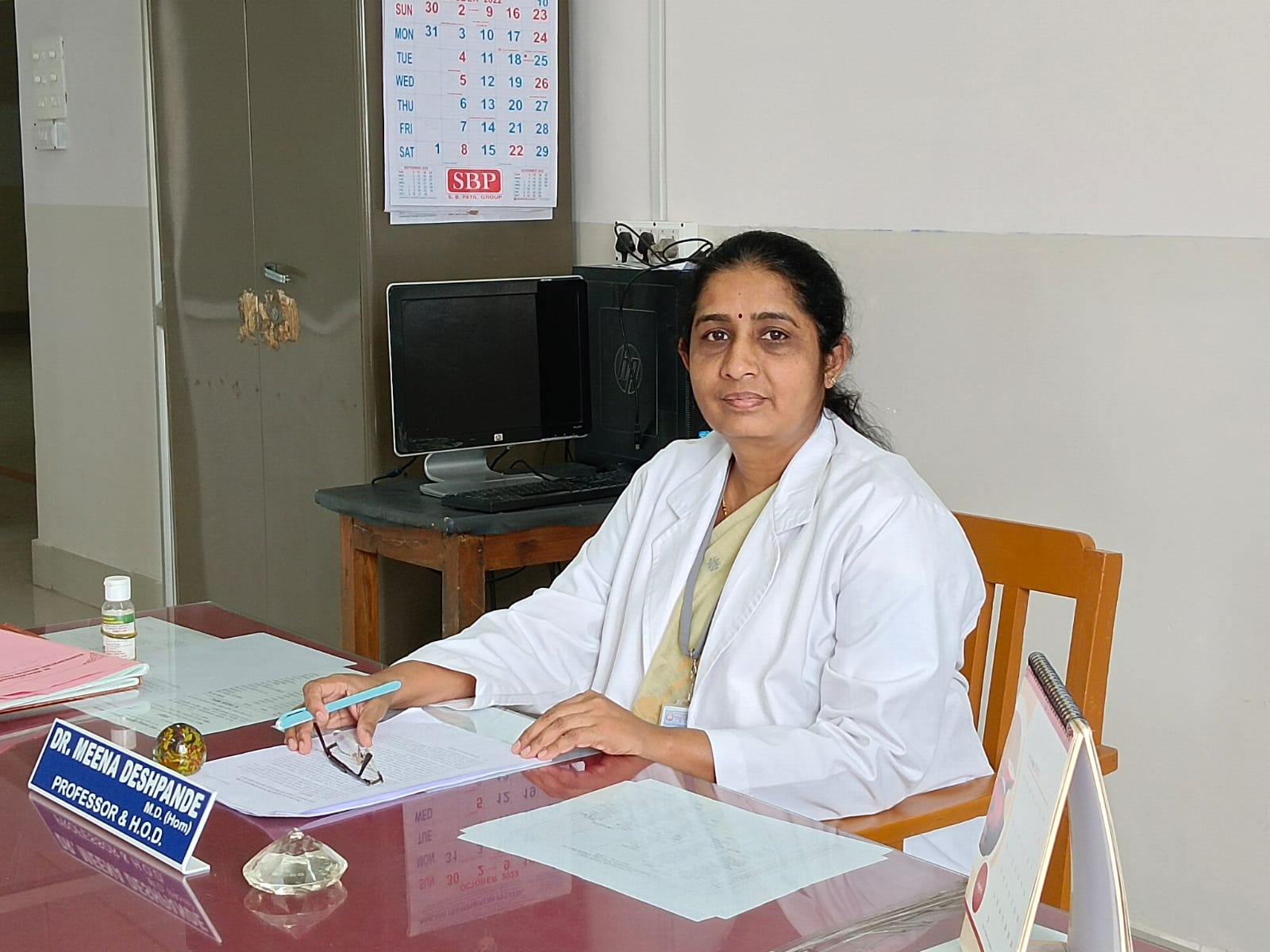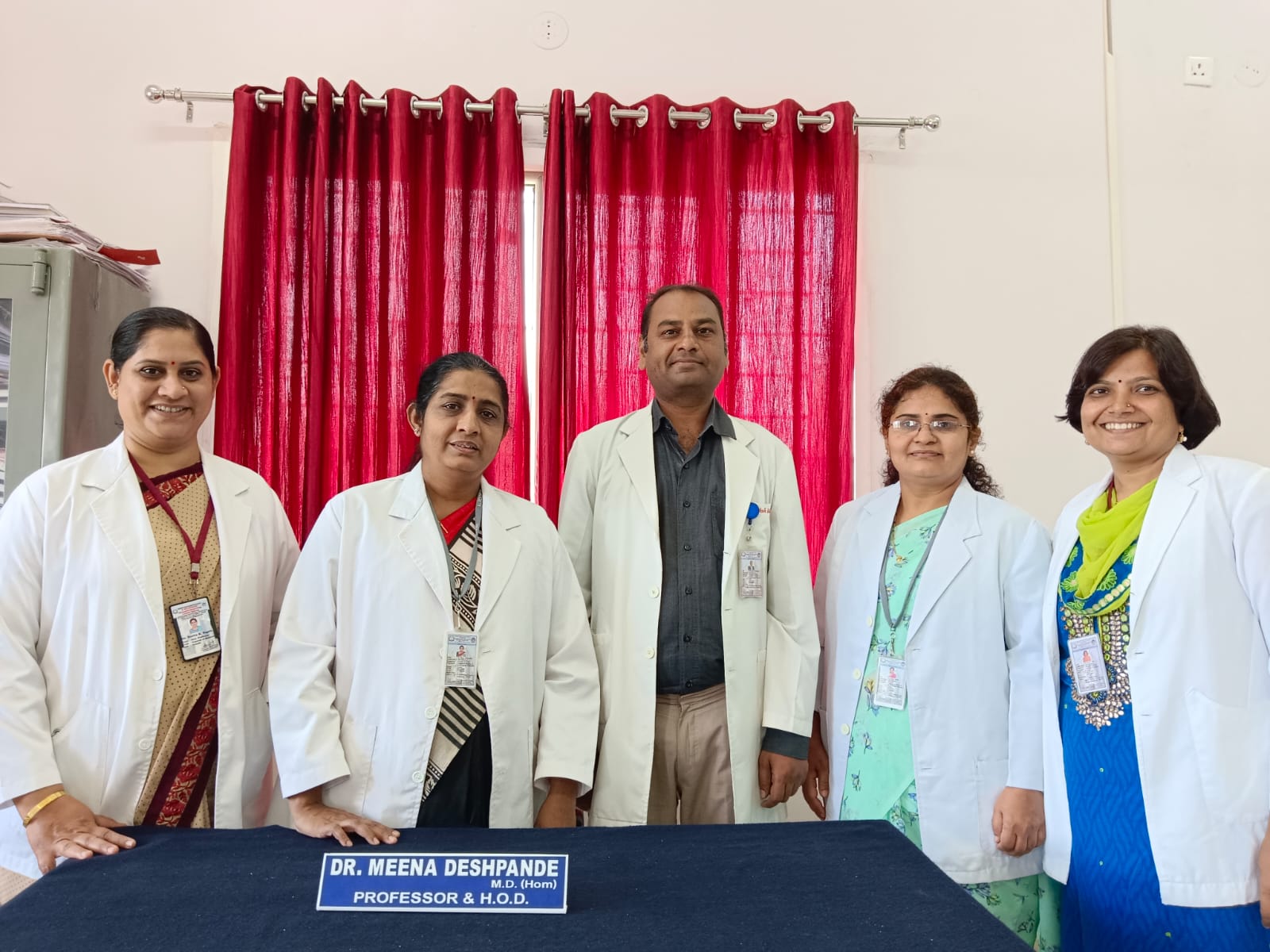 Introduction:
Homoeopathy is a complete system of medicine founded by Dr Samuel Hahneman based upon certain fundamental principles and different philosophical standpoint, explained at length by Hahneman in his book Organon of medicine and by pioneer Homoeopaths in different books on Homoeopathic Philosophy.
The focus of the education and training in the subject Organon of medicine and Homoeopathic philosophy is to build up the conceptual base of homoeopathic philosophy to be applied in medical practice. This is achieved by
i. giving the clear understanding of fundamental aspects of Homoeopathic science and its philosophical background,
ii. illustrating those principles which when applied in the practice enable the physician to achieve results which can be explained logically and rationally with greater competence in the medical practice.
Homoeopathic system of medicine having a holistic approach, with its logical, individualistic and dynamic approach to life, health and disease, remedy cure, demands comprehensive understanding of the patient as a person, his mental makeup, his personality along with that of disease process its cause, along with methodology of management of different types of cases/patients and evolution of effective treatment plan.
The onus of imparting this knowledge and developing such competence in students is on the Department Of Organon. and in order to achieve this, integration in the study of logic, psychology and the fundamentals of Homoeopathy becomes necessary.
Objectives of the department:
BHMS
At the end of the course, the learner will be able to –
Theory
1. Recall the events surrounding the discovery of homeopathy.
2. Recall the contributions of Hahnemann and other stalwarts in developing homeopathy into a complete therapeutic system.
3. Identify the fundamental resource literature in homeopathy.
4. Explain the cardinal principles of homeopathy.
5. Explain the role, limitations and prospects of homeopathy as a health care system.
6. Explain the evolution of medical though from early ages till date and discuss homeopathic concept in that context.
7. Explain the concept of health, disease and cure in homeopathy.
8. Knowledge of methods of case taking and case analysis Clinical.
1. Skill in the application of methods of case taking and analysis.
2. Interpret the history taken with reference to the various schools of thought in homeopathy.
3. Interpretation of symptoms as common and prescribing in the history taken.
4. Identification of the uncommon symptoms in the history taken.
5. Interpretation of the history taken as per Hahnemann's nosolocigal classification .
6. Identification of the miasmatic expressions in the history taken.
7. Identification of the susceptibility in the history taken.
8. Plan the potency and dosage for the history taken.
9. Interpret the results of prescription and plan for an appropriate second prescription.
10. Identify homeopathic aggravation and counsel patients for it.
11. Determine the plan of treatment for difficult and incurable cases.
12. Advise the patient regarding the diet to be followed and the diet to be avoided during homeopathic treatment.
Annual objectives:
IBHMS
At the end of 1st year, the student shall be able to,
1. Build conceptual base of the physician.
2. Recall the basic principles, which can be applied to practice.
3. List the fundamental principles of homoeopathy.
4. List the pioneers of homoeopathy and give briefly the contributions.
5. Grasp the inductive and deductive logic and its application and understanding of fundamentals of Homoeopathy
6. Develop an understanding of Basics of Human psychology.
II BHMS
At the end of 2ndyear, the student shall be able to,
1. Comprehend the person in wider dimensions to appreciate the factor responsible for the genesis and maintenance of illness i.e. Fundamental cause, Predisposing Cause, Maintaining Cause and one-sided diseases.
2. Take a case to build up portrait of the disease by:
a. Evolutionary study of patient comprising of well-defined characteristics.
b. Studying individual in his life-span and in relation to his family environment and work.
c. Processing of the interview and the entire case so as to grasp the principles of management of the patients.
3. Classify symptoms, evaluate symptoms, and infer susceptibility and characteristics to arrive at the totality of symptoms.
III BHMS
At the end of 3rd year the student shall be able to,

1. Arrive at the miasmatic evolution of the disease and miasmaticedisagnosis.
2. To arrive at a proper simillimum .
3. Select appropriate dose and potency.
4. Assess the prognosis of the case.
IV BHMS
At the end of 4th year the student shall be able to,
1. Take a case, analyze, evaluate it.
2. Arrive at miasmatic diagnosis.
3. Evolve proper treatment plan including posology.
4. List the principles of management of the case.
5. Advise diet and regimen.
6. Make a second prescription after assessing the prognosis of the case.
Objectives Of The Department For Postgraduate: MD(Hom)
ORGANON OF MEDICINE WITH HOMOEOPATHIC PHILOSOPHY
(Specialty subject)
Purpose:
The very purpose of post-graduation in Organon & Homoeopathic Philosophy is to train a basic homoeopathic graduate into the higher echelons of Philosophy and its implication into medical science in general and Homoeopathy in particular. Philosophy guides every science in its long journey of learning and eventually helps them to synthesise each information to build a better theory and the related practice.
The core objective of Post Graduate Education is to prepare good teachers, future researchers, efficient practitioners and good administrators. The Post Graduate Curriculum has given good scope to improve the skills in the fields of Research and Practice. Today's Postgraduate may be tomorrow's teacher or researcher or practitioner or administrator or all of them.
Therefore, Post-graduation in Organon & Homoeopathic Philosophy should cultivate original thinkers and outstanding medical practitioners in the science of Homoeopathy that in turn promotes positive growth of the profession with a healthy leadership.
A. Post-Graduate in Organon & Homoeopathic Philosophy shall:
a. Have a clear understanding that homoeopathic philosophy is not an independent entity but an application of general philosophy in Homoeopathy.
b. Must acquire excellent knowledge in Philosophy & logic and learn how to apply this into Hahnemannian thoughts as written in Organon of medicine.
c. Evolve deep knowledge in the principles of Homoeopathy and become capable to analyze & apply the principles and methods in Homoeopathy for the best results in the treatment of sick individuals.
d. Have optimal knowledge in all the available literature in Homoeopathy related to its philosophy & principles like; Kent, Roberts, S.Close, R.Dunham, Dudgeon etc. Also study and interpret the modern day writers in the topic.
e. Capable to interpret Hahnemannian Homoeopathy in the present day scientific content. A deep insight into the modern branches like Nano science, Particle physics & Genetics makes them proficient enough to encounter the deep seated dialectics of Homoeopathy in its theory and practice.
f. Incorporate the fundamentals of modern Psychology into the case taking, case analysis and prescription.
g. Have deep knowledge about all latest investigative, diagnostic and treatment strategies of modern medicine and other branches of medical science. Therefore he will have firm grip over the events happening in the medical world.
Aims
A Post Graduate in Organon of Medicine and Homoeopathic Philosophy shall be
able to -
a. Aspire a true rational healing art, which can treat the sick for the permanent Restoration of health.
b. Employ unprejudiced reflection adopted to each morbid condition and to treat them by the Holistic principles and philosophy of Homoeopathy.
c. Investigate what is to be cured in disease and to know what is curative in the various medicine in order to understand better the scope and limitations of Homoeopathy.
d. Obtain the communicative and interpersonal skills to communicate and interact with health care teams.
e. Adopt a scientific temper and unbiased approach to augment self-knowledge to improve the quality of treatment throughout the professional life.
f. Be able to co ordinate the recent advances in science with his knowledge of Homoeopathy, so as to reflect better art of healing.
g. Develop an open mind to update him by self-study attending courses conferences and seminars relevant to the specialty.
Objectives :
At the end of Post GraduateTraining in M.D., in Organon ofMedicine and Homoeopathic Philosophy, the PG's Scholor shall be able to –
a. Develop excellent teaching skills, different techniques and educational methods in teaching Homoeopathic students and practioners.
b. Practice medicine ethically and uninjuriously and instep with principles of health care and the philosophy of Homoeopathy.
c. Demonstrate empathy and holistic approach towards sick and exhibit interpersonal behavior in accordance with expectations of the society.
d. Educate the people and promote preventive measures for common health problems by Homoeopathy in rapid gentle, permanent way.
e. Play responsible role in implementation of the National health programmes.
f. Undertake common health problems, use information technology and carry out research both basic and clinical with the objective of publishing his work and presenting of various scientific fora by which our fellow Homoeopaths can be benefited.
g. Recognize the importance of Health as whole in an individual and necessary steps should be taken while practicing Homoeopathy.
h. Prove medicines, which are partially proved in order to ascertain its true nature and qualities for the better implementation of similia.
Academic Programmes under the Department : BHMS
The subject is taught for undergraduates for all the 4 years i.e. 1,2,3, and 4th BHMS, with annual examinations at the end of 2,3,and 4th BHMS.
The activities are pre planned for each academic year and conducted accordingly which include lectures, seminars, tutorials, bedside teaching.
Various teaching learning methods and media are used effectively to facilitate students in learning.
Student evaluation is done by conducting regular tests and internal assessment examinations.
The department has sufficient number of staff members as per the requirements of Central council of Homoeopathy, New Delhi,
The faculty is recognized by Rajiv Gandhi University of Health sciences, Karnataka, Bangalore.
TEACHING PROGRAMME (UG):
1

Total no. of theoretical teaching hours

I BHMS 35 hrs (10hrs for logic)

II BHMS 160 hrs

III BHMS 100 hrs

IV BHMS 180 hrs

2

Total no. of teaching hours for Practical

which include seminars, tutorials, bedside

teaching (Clinicals)

I BHMS 5hrs

II BHMS 60 hrs

III BHMS 75 hrs

IV BHMS 270 hrs

3

Whether advance teaching programme prepared

Yes both yearly and monthly programmes prepared

4

Teaching diary maintenance

Maintained

5

Practical Records of Students

Maintained

6

Seminars held on Organon of Medicine

Yes, Conducted monthly Twice for each year

7

Tutorial Classes provision with no. of students in each batch

Yes, Conducted with 10 to 15 students in each Batch

8

Facilities for Demonstration

Provided

9

Facilities for Demonstration at Bed side in Hospital

Provided

10

Training on applied aspect of Organon of Medicine

Provided

11

Time table

Yes

12

Publications by the members of the staff during the last three years

Regular publication of articles in Journals by staff members.
Academic programmes / activities under department: Postgraduate
TEACHING PROGRAMME (PG):
1

Total no. of theoretical teaching hours

Part I-210hrs

Part II- 210hrs

2

Total no. of hours for clinical OPD for each PG Student

Part I-850Hrs

Part II-850Hrs

Total no. of hours for clinical IPD for each PG Student

Part I-1700Hrs

Part II-1700Hrs

3

Clinical Discussion

05- Hrs per week

4

Maintenance of Log Book

Maintained

5

Seminars

Conducted daily

6

Journal club meetings

Conducted weekly once

7

Clinical Presentation by PG Students

Conducted daily

8

No. of Project work allotted to each PG Student

One project work for one student allotted for each work

9

Documentation

Maintained

10

Research Facilities for P.G. Courses

Provided

11

Applied Organon of Medicine

Covered in clinical postings

12

Homoeopathic Philosophy

Covered in Theory classes & Seminars
INFRASTRUCTURE INFORMATION:
| | |
| --- | --- |
| Organon of Medicine Department Room | 16.25 Sq. Mtrs |
| HOD Room | 22.20 Sq. Mtrs |
| History of Medicine Museum cum Demonstration Room | 45.15 Sq. Mtrs |
| PG Student Discussion Room | 86.67 Sq. Mtrs |
| Departmental Library | Provided in the Dept. |
ITEMS PROVIDED:
| | | |
| --- | --- | --- |
| S. No. | Items Available in the Department | Qty |
| 1 | Photographs of Founder and Philosophers in the field of Homoeopathy. | 20 |
| 2 | Other Charts | 14 |
| 3 | Number of books in Departmental Library | 168 |
| 4 | Charts on History of Medicine | 6 |
| 5 | Books on History of Medicine | 3 |
| 6 | Computer ,with internet and Homoeopathic softwares along with printer | 1 |
Name of Guides in the subject for P.G. Students:
| | |
| --- | --- |
| | |
| 1 | Dr. Meena D |
| 2 | Dr. Sudha Hubbly |
| 3 | Dr Satish Kalashetty |
| 4 | Dr Jyothi Wali |
| 5 | Dr Navita B |
FACULTY:
| | | | | | |
| --- | --- | --- | --- | --- | --- |
| Sl. no | Photo | Name | Qualification | Designation | Teaching Experience |
| 1 | | Dr. Meena Deshpande. | MD ( Hom) | Professor & HOD | 22 Years 11 months |
| 2 | | Dr. Sudha S Hubbly | MD ( Hom) | Prof. | 22 Years 1 months |
| 3 | | Dr. Satish Kalshetty | MD ( Hom) | Associate Prof. | 16 Years 2 months |
| 4 | | Dr. Jyoti Wali | MD ( Hom) | Asso Prof./Reader | 10 Years 10 month |
| 5 | | Dr Navita B | MD ( Hom) | Asst. Prof/Lect. | 5 Years 5 months |